Looking for a speaker for your women's event or retreat?
I love connecting face-to-face with Christian women to encourage them in applying the gospel to their life. My goal is that women will come away with hope and confidence that God is at work in them and their circumstances.
Topics
I often share about:
Christian living and gospel application
belonging, courage, and vulnerability from a biblical perspective
specific Scripture passages – I work through the passage verse by verse inductively with the ladies attending
If you have a particular topic in mind that you don't see on this page, let me know.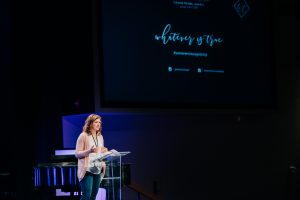 2022 Schedule
Women Encouraged Canada – May 7, 2022
Courageously Hospitable Women
Requests
I'm happy to work with your church/event's speaker budget. If travel is required, I would ask that travel expenses would be covered by your group.
If it sounds like I'd be a good fit for your group, send me an email and I'll get in contact with you!