I was rushing around the kitchen this week, getting dinner prepped, and directing my boys to finish their homework when the kids' Sunday School memory verse caught my attention:
"Whoever sows sparingly will also reap sparingly, and whoever sows bountifully will also reap bountifully.  Each one must give as he has decided in his heart, not reluctantly or under compulsion, for God loves a cheerful giver." (2 Corinthians 9:6-7 ESV)
Sometimes we live sparingly and we sow sparingly in our own lives and in the lives of the people around us. Some days, if we're honest, we're serving our families, loved ones, co-workers, and customers reluctantly and out of compulsion. But God loves a cheerful giver, and our sowing in the lives of the people around us is not in vain. Bountiful, joyful sowing reaps bountifully and God promises that lives poured out in his service will reap abundance.
I'm not sure what kind of challenges or hardships you're facing as you head into the Christmas season, whether they're relational, financial, or personal, but I'm praying you'll remember the next verse in that 2 Corinthians passage:
"And God is able to make all grace abound to you, so that having all sufficiency in all things at all times, you may abound in every good work." (2 Corinthians 9:8 ESV)
I just love all the uses of all and every in this passage. All God's grace abounds so that we may abound in every good work. Not just a few works here and there, but every good work.
The good work of showing up and doing our best for God's glory.
The good work of making food and serving it to the people we love.
The good works of discipling our children, working through sin issues with them, tucking them in at night, and welcoming them again in the morning.
The good works of making home and life beautiful for Christmas – decorating the house, making the cookies, planning the Advent celebrations, and wrapping the gifts.
And the best part of this, is that God's grace isn't some kind of coating that makes everything underneath shinier and better. It's not a vague energy that simply floats over us and fills in the cracks of what we don't manage to do on our own. No, his grace is sufficient in a way that lifts us out of our misery, strengthens and enables us to obedience and faith.
God's grace supplies and multiplies the seed we sow and increases our harvest. "As it is written, 'He has distributed freely, he has given to the poor; his righteousness endures forever.'
He who supplies seed to the sower and bread for food will supply and multiply your seed for sowing and increase the harvest of your righteousness." (2 Corinthians 9:9-10 ESV)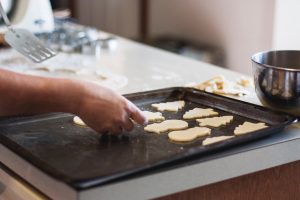 While you hang stockings and sweep up pine needles, wrap presents and keep toddlers from pulling ornaments off the tree, if you remember one thing this Christmas, I hope it's this:
God is at work in you and through you, and he is supplying all the grace for you to continue your work of sowing love and joy and life into the world he's placed you in. "You will be enriched in every way to be generous in every way, which through us will produce thanksgiving to God." (9:11) His purpose and intent is to increase the harvest of your righteousness and produce thanksgiving in the hearts of those you serve.
So whether you're reading about baby Jesus to your kids, carrying a plate of cookies and a card across the street to your neighbors, or dropping spare change in the Salvation Army bucket on your way out of the mall, may you remember that as you offer your life in joyful service this Christmas, "the ministry of this service is not only supplying the needs of the saints but is also overflowing in many thanksgivings to God." (9:12)
And may you offer your life with a prayer that the ones you serve will know the riches of Christ and ultimately "…glorify God because of your submission that comes from your confession of the gospel of Christ, and the generosity of your contribution for them and for all others,while they long for you and pray for you, because of the surpassing grace of God upon you. Thanks be to God for his inexpressible gift!" (2 Corinthians 9:13-15 ESV)