"For it is you who light my lamp; the Lord my God lightens my darkness.
For by you I can run against a troop, and by my God I can leap over a wall.
This God—his way is perfect; the word of the Lord proves true; he is a shield for all those who take refuge in him.
For who is God, but the Lord? And who is a rock, except our God?— the God who equipped me with strength and made my way blameless.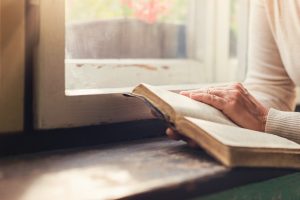 If we are confused by the world around us or by our own fleshly feelings about who we are and what we need to be as women, the first place we must look is God's word. Our Creator God is the one who assigns our womanhood, and so He is the one with the final word on who we are and what we ought to be.
In Christ, we are hidden and protected from accusation and condemnation, from the world, the flesh, and the devil.
If we will invest our lives in knowing Him through His word, we will find this word proves true and that we are protected and shielded in Him. When we come to God believing that he is a rewarder of those who diligently seek him we can't stand equipped, strengthened, and confident that we are blameless in Christ, that He is trustworthy. His promises are true, and His ways for us are good.
Who is God, but the Lord?
This first appeared as a devotional I wrote for the Women Encouraged podcast which you can listen to on iTunes. The show notes and information are available on our website.
Available on: