"For I consider that the sufferings of this present time are not worth comparing with the glory that is to be revealed to us. For the creation waits with eager longing for the revealing of the sons of God… For we know that the whole creation has been groaning together in the pains of childbirth until now. And not only the creation, but we ourselves, who have the firstfruits of the Spirit, groan inwardly as we wait eagerly for adoption as sons, the redemption of our bodies." Romans 8:18-19 ESV
When we're grieving a loss, we often are tempted to focus our attention on understanding God's purposes and all the reasons for what has happened. We might be tempted to tell ourselves that God is not truly faithful, that he's abandoned us or that he isn't truly willing to care for us.
Our world groans, waiting expectantly in the already-but-not-yet. We know that Jesus has come and accomplished salvation for us. And yet, we wait, in a hopeful tension, knowing that everything is not yet as it should be.
While we wait, we can find hope and courage by remembering God's character and reminding ourselves what is true about him: He tells us that he is near to the brokenhearted and saves the crushed in spirit. He tells us that he is our deliverer, from all our afflictions (Psalm 34:18-19). He tells us that he "upholds all who are falling and raises up all who are bowed down." (Psalm 145:14 ESV)
This faithful deliverer draws near, and upholds us, and one day, he will wipe away every tear from our eyes and we will see the fulfillment of the redemption that he accomplished in his death and resurrection for us.
Revelation 21 says, " And I heard a loud voice from the throne saying, "Behold, the dwelling place of God is with man. He will dwell with them, and they will be his people, and God himself will be with them as their God. He will wipe away every tear from their eyes, and death shall be no more, neither shall there be mourning, nor crying, nor pain anymore, for the former things have passed away."

And he who was seated on the throne said, "Behold, I am making all things new."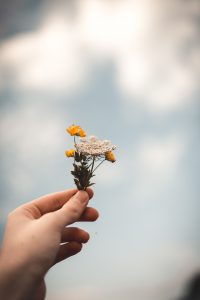 This first appeared as a devotional I wrote for the Women Encouraged podcast which you can listen to on iTunes. The shownotes and information are available on the website.
Available on: